UVOZ-3300C Ozone Gas Analyser
Details:
The UVOZ-3300C ozone gas analyser calculates the current ozone concentration by measuring the change in light signal intensity before and after ozone absorption of UV light. The equipment uses an advanced dual-light UV light source system with an intelligent lamp management system, which enables the UV lamp to reach the measurement state quickly after switching on. It is mainly used for continuous detection of ozone gas in various industrial environments, and can also be used to detect ozone gas in operating pipelines, vessels and other environments.
Feature:
Measurement features: patented process with automatic zero correction, dual-optical UV absorption method principle, foreign long-life UV LED light source, continuous operation, ensuring the stability of the detection concentration.

Test method: Dual-optical UV absorption method, long-life light source system, high measurement accuracy

Measurement principle: accurate measurement by photometric absorption principle according to Lambert-Beer's law.

Light source system: foreign long-life UV light source system (UV LED light source (with lens)), free 2-year guarantee.

Usage: Indoor installation with power and signal terminals.

Light cell system: Separate light cell technology, no leakage, high pressure resistance, high flow sampling gas impact resistance.

Intelligent compensation: built-in temperature and pressure compensation and display, with automatic compensation of the light source.

Operation mode: User can choose between manual zero calibration and automatic zero calibration according to the operating status, and can set the automatic zero calibration time.

Display units: g/Nm3, mg/NL optional.

Data display: HD colour touch screen, high concentration range setting for incoming gas mass flow, real time display of yield (optional).

Output functions: 4-20mA, RS485 communication, two sets of alarm point output, electronic flowmeter input, etc.

Standard equipment: anti-corrosion flow meter, ozone tail gas destroyer, inlet gas filter.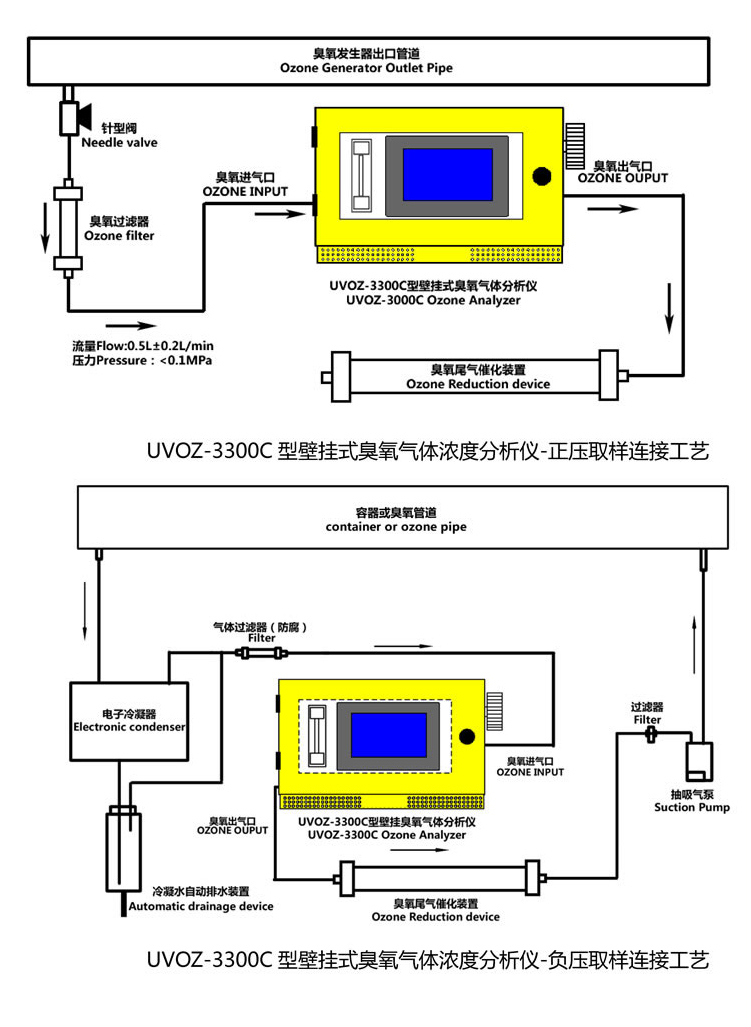 Application:
Widely used in pharmaceutical, chemical, municipal, sewage treatment and other industries, the ozone generator export concentration output measurement, ozone generator manufacturers, municipal water industry, industrial sewage industry, fine chemical industry food and drinking water industry, space disinfection industry, pool disinfection industry, flavor synthesis industry and other use of ozone generator industry.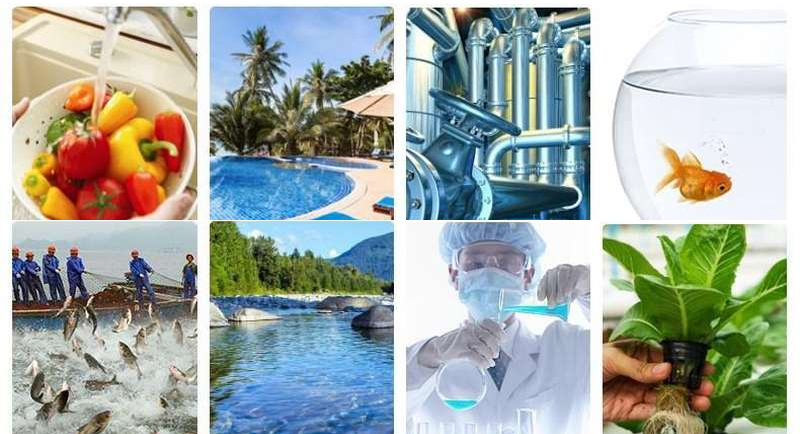 | | |
| --- | --- |
| Model | UVOZ-3300C |
| Measuring range | 0-300g/Nm3 |
| Optional ranges | 0-200g/Nm3, 0-100g/Nm3, 0-50g/Nm3, 0-1000ppm |
| Light source life | approx. 30,000 - 50,000 hours |
| Sampling method | positive pressure sampling, negative pressure sampling (optional) |
| Display interface | 4.3" touch screen operator interface |
| Content interface | ozone concentration, temperature, pressure |
| Auxiliary functions | Temperature compensation, pressure compensation |
| Display units | g/Nm3, mg/NL, %WT optional |
| Display resolution | 0.01g/Nm3 |
| Gas flow | 0.5L ± 0.2L/min |
| Input pressure | <0.1 MPa |
| Concentration error | 0.5% FS max |
| Linearity error | 0.5% FS max |
| Zero point drift | <±0.3%.FS |
| Response time | 0.03 s for signal, 0.3 s for display |
| Ambient temperature | -20 to 50°C |
| Piping connection | Quick screw (stainless steel) |
| Tandem sample aperture | Φ8 (8mm*6mm) (optional) |
| Bypass sampling aperture | Φ6 (6mm*4mm) |
| Communication method | RS-485 |
| Output mode | 4-20mA (active) |
| Relay signal | relay signal for high alarm point, relay signal for low alarm point |
| Power supply | AC 110-220V |
| Dimensions | 230mm (H) x 330mm (W) x 150mm (D) |
| Note | 1mg/L = 1g/m3 = 467PPM. |
| Free warranty | 24 months (mainframe sensor) |