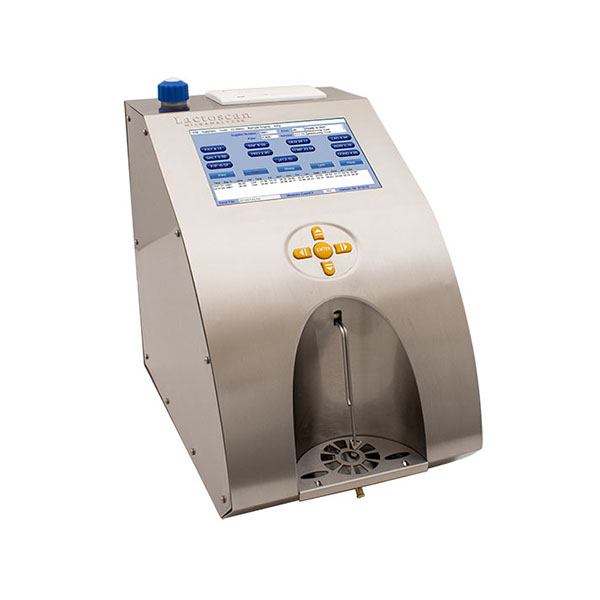 LAW Ultrasonic Milk Analyzer Laboratory Model
LAW Automatic Milk Analyzer with built-in windows system, with external keyboard. It could be used to test milk, goat milk, yogurt, oat milk and other milk samples. At the same time, it can expand multiple detection indicators such as ph, conductivity, total solids, etc. And can expand various functions such as milk weighing scale, scanning code tracking, which is convenient for tracking and is mostly used in laboratories, dairy enterprises, medium-sized milk collection centers, etc.
Product Features
User-friendly ultrasonic milk analyzer: simple in operation, maintenance, calibration and installation;

Designed for use in Laboratories and Milk Collection Centers;


Integrated 7" fully functional display;


Cleaning with two peristaltic pumps;


Portable and compact design;


Very small quantity of milk required;

Low power consumption;

No use of hazardous chemicals;

Measuring accuracy adjustment can be done by the user RS232 Interface;

ESC POS Printer Support;

Two samples self-calibration;

Easily readable results;

Possibility of connecting weighing scale;

Possibility of connecting pH probe;

Integrated pH and conductivity measuring;

Function Real time clock;

USB;

USB flash drive;

One year full warranty.
*LW Series can be connected toward weighting scale. If you want to request this option, please Contact us.
Technical Parameters
| | |
| --- | --- |
| Sample vоlume | 5-20 ml |
| Measurement speed | 60/30 sec. |
| Sample temperature | 5˚ C – ˚40 C |
| Humidity | 0 – 80 % RH |
| Interface | RS 232 Port |
| Overall Size (W x D x H) | 200/250/230mm |
| Mass/kg | 8 kg |
| AC supply voltages | 95-250 V |
| DC power supply | 12V |
Measuring Parameter
| | | |
| --- | --- | --- |
| Component | Range | Accuracy |
| FAT | 0% – 35% (option to 45%) | ±0.06% |
| SNF | 3% – 15% | ±0.15% |
| Density | 1000 – 1160 kg/m³ | ±0.3 kg/m³ |
| Protein | 2% – 15% | ±0.15% |
| Lactose | 0.01% – 6% | ±0.2% |
| Salts | 0.4% – 1.5% | ±0.05% |
| Added water | 0% – 70% | ±3% |
| Sample Temperature | 5°C – 40°C | ±1°C |
| Sample speed | 60/30 sec. | ±0.1sec. |
| Freezing point | -0.4°C to -0.7°C | ±0.005°C |
| Electrical conductivity* | 2-14mS/cm | ±0.05mS/cm |
| Total solids | 0-50% | ±0.17% |
| pH* | 0-14 | ±0.05 |